German and Italy go higher then France, but crisis is far to over.
Source: Financial Times
http://www.ft.com/cms/s/0/b844430e-cabb-11e3-9c6a-00144feabdc0.html#ixzz2zj6Q0pRr
Germany led an expansion in business activity in the eurozone to a near three-year high in April, but further evidence of falling inflation continued to to haunt the currency bloc.
Germany's PMI rose to 56.3 from 54.3, in a broad based improvement across both manufacturers and services. Periphery eurozone countries also increased, registering the fastest rate of growth since early-2011.
France was less buoyant however, underscoring the huge task facing newly-appointed prime minister Manuel Valls in his push for improved growth and a lower budget deficit. The composite index fell to 50.5 in April from 51.8 in March, though it still registered above the 50 level that distinguishes expansion from contraction.
Chris Williamson, Chief Economist at Markit said that while the currency bloc's economy was entering the second quarter on a "solid footing", the outlook for prices was a "big concern".
"With selling prices falling at the fastest pace since last August despite the upturn in activity, there will be growing fears that deflationary pressures are intensifying and that the ECB needs to respond with more than just words to the recent appreciation of the exchange rate."
The rise of the euro to multiyear highs against the US dollar has been of increasing concern to the central bank as it has significantly added to the downward trend in inflation.
In Germany, manufacturers said that successful price negotiations, lower raw material prices and more intense competition among suppliers had contributed to the sharpest drop in input prices since July last year.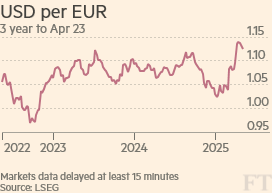 The data came as HSBC/Markit's manufacturing PMI for China provided a further signal of a slowdown in the world's second-largest economy, registering a figure of 48.3, higher than March's 48, but still a contraction in activity.
Separate data from Eurostat, the EU's statistical portal, showed that eurozone government debt rose to 92.6 per cent of economic output last year, compared with 90.7 per cent in 2012. The government deficit fell to 3 per cent of gross domestic product, from 3.7 per cent in 2012.